11 March 2015, 9:56
BY JEFF TRUESDELL @jhtruesdell 03/10/2015 AT 03:30 PM EDT
Mother of One of Bill Cosby's Accusers Writes Emotional Letter to Cosby's Wife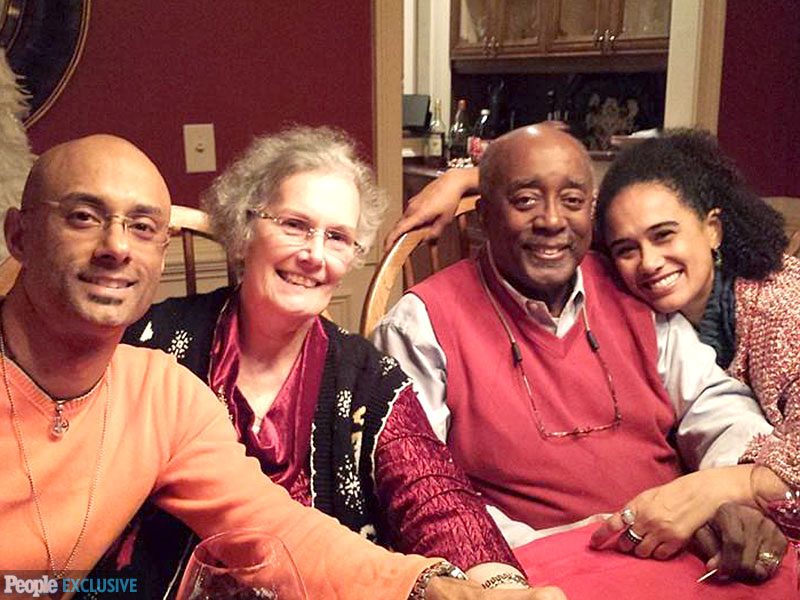 Judy Thompson (second from left) with family, including daughter Jennifer, in 2013
COURTESY JENNIFER THOMPSON



The mother of one of Bill Cosby's 39 accusers has written an open letter to the comedian's wife, asking Bill and Camille Cosby to "speak the truth, and be afforded peace for your souls."

Judy Thompson, whose daughter Jennifer K. "Kaya" Thompson, 44, is a former Jane Doe who revealed her identity publicly to PEOPLE on March 4, says she wrote and sent her letter after Camille's defense of her husband last December.

"You have met Jena and perhaps you will remember her," Judy wrote, referencing the name her daughter used as a 17-year-old model when she first met Cosby in 1988 in New York City – a meeting that Jennifer says was followed by a long stretch of unwanted advances culminating in pressure from Cosby for her to perform a sex act.

Writing "from One Mother to another Mother," Judy, 71, a retired nursing administrator in Florida, said: "Your husband crossed boundaries that never should have been breached. He shattered her innocence. And for a while even her relationship with her own father, who was so similar, was broken too."

She added: "Jena tried to convince herself that it was all 'casting-couch behavior' but, it was much more sinister. I will spare you from reading the exact details and me in writing those details. But, her inner brokenness was heart breaking. She came home with an inner light extinguished, and still has not fully regained that spark."

In her only public comment on the matter, Camille faulted the media for its rush to judgment about her husband.


Bill Cosby and his wife Camille.



"There appears to be no vetting of my husband's accusers before stories are published or aired," she said, before drawing a comparison to the discredited Rolling Stone article about an alleged gang rape at a University of Virginia fraternity.

"None of us will ever want to be in the position of attacking a victim," Camille said. "But the question should be asked – who is the victim?"

Judy Thompson's letter leaves no doubt that she believes her daughter is a victim.

In her letter, Judy recalls that after showing up at a New York City modeling agency, her daughter was "signed on the spot" and sent to meet with Cosby at the studio where he filmed The Cosby Show. Cosby himself called Judy that afternoon at her job in suburban Washington, D.C., and encouraged her and her husband to support Jennifer's move to New York City, Judy says.

He later had Jennifer and her parents to his home for dinner, assuring them all that he'd help Jennifer launch her career, say the Thompsons.




Jennifer's family felt a kinship to the Cosbys. "After meeting your husband, I felt I knew you both," Judy wrote. "The similarities in our lives as young adults were striking! Both our husbands' names are 'Bill' for William, both born in July and the same sign, both college graduates, both black fraternity men, both successful in their professions, and both with a unique sense of humor too."

Describing the Cosbys' Upper East Side brownstone, she wrote, "It looked and felt like our home minus the Bill Cosby Awards on the mantel."

But the promise for Jennifer collapsed under the weight of her fear about Cosby's intentions.




"We could not find anyone that would believe her, a second terrible blow!" Judy's letter states. "To be so hurt and violated, and then not be believed! … Jena suffered but we did, also, overwhelming guilt. … Why didn't we see some red flags? Were flags there? We have searched and searched our memories."



Read :

>> 'Scary Things Did Happen' : Inside Bobbi Kristina's Drug Den

>> Actor Harrison Ford Plane Crashed, suffers serious injuries

>> Kanye Bag Of Air From His Yeezus tour Sells For $60K On eBay

Judy says Jennifer didn't tell her parents about what happened for more than a year.

"There was no proof, only 'he said, she said, we said.' … Your husband had enormous funds, we had two children in college. Although living well, we had no funds to take on his personae. We had everything to lose including a very fragile victim. We all could have been further ridiculed by our community. But, we have always wanted to speak our truth to begin real healing."

"Why now? Because it is the truth, and so many prompted by a growing intolerance of sexual abuse in churches, schools, sports, the armed forces and our society are saying enough of this abuse! It has to stop!"



Through his attorney, Martin Singer, Cosby has repeatedly denied claims made against him, and has filed a motion to dismiss a defamation lawsuit brought by three women who contend that his representatives' comments have harmed them.

More recently, Cosby has countered a few canceled shows and protesters at his appearances with statements thanking and encouraging his fans, including a short video he released Monday to promote a March 14 show in Wheeling, West Virginia.

Wrote Judy Thompson to Camille Cosby: "I pray for you and your husband every day. I am quite sure you have knowledge of these events as you have lived with the man for over 51 years and know his habits, despite what your statement said."

She added, "May we all find some peace. Even in hearing the truth, it is both liberating and hurtful, causing an opening of old wounds that need to heal. Only in truth will come wellness, healing and forgiveness."

"This is our truth."
---
You Lie Because You Are Scared