03 December 2014, 18:30
theguardian.com, Wednesday 3 December 2014 04.22 GMT
Rory Carroll in Los Angeles
Judith Huth says she was 15 when comedian took her to Playboy Mansion in 1974 and made her perform sex act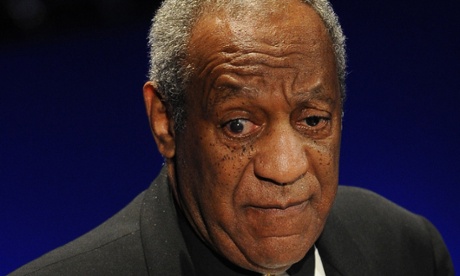 Bill Cosby is facing a civil lawsuit claiming he molested a 15-year-old girl. Photograph: Stan Honda/AFP/Getty Images



A woman in California is suing Bill Cosby for an alleged sexual assault at the Playboy Mansion in 1974 when she was 15 years old.

Judy Huth, now 55, filed a lawsuit at the Los Angeles county superior court on Tuesday claiming sexual battery and infliction of emotional distress.

In recent weeks about 20 other women have come forward to accuse the 77-year-old comedian of sexual harassment and abuse, shredding his reputation and career.

The suit says Huth and a friend who was 16 at the time met Cosby in 1974 during filming at Lacy Park in Riverside county and accepted an invitation to visit him at a tennis club the following week.

There he allegedly plied them with alcohol while they played billiards. "Under the terms of Cosby's game, plaintiff was required to consume a beer every time Cosby won a game," the suit said.

He allegedly then announced a "surprise" and led the girls to a nearby house that turned out to be the Beverly Hills home of Playboy magazine founder Hugh Hefner, who was famous for hosting lavish parties. Cosby allegedly told the girls to say they were 19 if asked.

The TV star allegedly led her to a bedroom, sat on the bed and asked her to sit beside him. "He then proceeded to sexually molest her by attempting to put his hand down her pants, and then taking her hand in his hand and performing a sex act on himself without her consent."

The five-page complaint stated that the "traumatic incident" psychologically and emotionally scarred Huth but that she realised the damage only recently – allowing her to file the lawsuit under California law. She has cited "damages that are substantial and continuing".

The office of Cosby's lawyer, Martin Singer, told the Guardian there was no immediate statement in response to the lawsuit.


MIKE WINDLE/GETTY IMAGES FOR PLAYBOY
The woman claims Cosby molested her at the Playboy Mansion (pictured).



It came a day after Cosby resigned from the board of trustees of Temple University, his alma mater, in the wake of cascading claims of sexual misconduct.

An online petition demanding that Temple end its relationship with the entertainer had gained more than a thousand signatures.

In a statement Cosby said he had "always been proud" of his association with Temple. "I have always wanted to do what would be in the best interests of the university and its students. As a result I have tendered my resignation from the Temple University board of trustees."

The vertiginous fall from grace has shocked Americans who knew Cosby as an actor who broke race barriers on the big screen and TV, most notably as the wholesome character Dr Cliff Huxtable on the long-running NBC comedy The Cosby Show.

Netflix and NBC have dropped projects involving him. Stand-up shows in Washington state and Las Vegas have been cancelled. However an audience in Florida gave him a standing ovation.

The general public was largely unaware of the allegations until recently but people in the media and entertainment industry knew about some of them for years.

Andrea Constand – who reported Cosby to police for abuse in 2005 and sued him in civil court after the district attorney decided there was not enough evidence to prosecute – was an employee of Temple University as coach of the women's basketball team.

Read also :

>> [VIDEO] Topless Miley Cyrus 'frees her legs'

>> Jaden & Willow Smith don't go to school "School ain't real"

>> Kourtney Kardashian Nude and Pregnant for 'DuJour' Magazine

The case settled out of court but a number of the anonymous "Jane Doe" witnesses who were slated to testify in the suit have come forward to the media in the past two weeks.

Temple had previously signalled it was sticking by Cosby but other universities, including the Berklee College of Music, Boston, and the University of Massachusetts, Amherst, cut ties with the comedian.

Tamara Green, a lawyer in California, was the only witness to prior sexual assaults in the Constand civil suit to allow herself to be named. In February 2005 she spoke to NBC's Matt Lauer on the Today show, saying that in the 1970s Cosby drugged her with what she was told was cough medicine, then took her to her apartment and groped her. She told the Guardian: "He was like a spider, sitting there waiting."
Topic edited 1 times, last edit by RouTe, 03 December 2014, 18:34
---
You Lie Because You Are Scared